When I first discovered chips with Joppisauce 8 years ago I was delighted. That Dutch snacks extended beyond fried foods was beyond me at that point in time.
For sure, don't miss out on the world's best chip shops and their selection of sauces that goes well beyond ketchup and mayonnaise. But I want to make sure you're aware of other delicious snacks to try on your trip to the Netherlands. It's not so much about hipster burger bars, but rather the classics in Dutch cuisine. Enjoy!
DUTCH CUISINE: KIBBELING
Fresh fish should be top of your list of culinary delights in Holland. This post isn't about 3-star fish restaurants, so most likely your meal will be served in a plastic tray with a wooden fork. Kibbeling is a cubed fish fillet, such as Cod, which is battered and fried. But that's not all, the fish is served with a tasty sauce. Hours later, its taste linger on, thanks to garlic. This dish is sold by most chip shops near the beach, fish shops, market stalls and supermarkets. Delish!
DUTCH CUISINE: BORRELSNACK
The Netherlands has this strange tradition called Borrel, which means a friendly get-together among friends and colleagues. Drinks are involved, as well as an array of snacks. Borrelsnacks, or Borrelhapjes, are kind of like Dutch tapas. If you're keen to try out a few new cultural things and aren't on a diet, order a portion of fried delights, or go all out and get the complete Borrelgarnituur (variety of snacks). Bitterballen (meatballs), Kaastengels (cheese fried in pastry), cubed cheese, Ossenworst (sausage made with raw beef) and Vlammetjes (spicy mince in pastry) are some of the classics. If you're looking for a healthier option get the notjes (nuts) or olives.
Post-borrel is pre-borrel: On your way home from drinks and snacks pop into a supermarket to stock up on more snacks for at home. The frozen food section has the biggest selection, including vegetarian options like Bitterballen with risotto, tomatoes and mozzarella, which are surprisingly good.
DUTCH CUISINE: KIPSATÉ
The Indonesian snack Kipsaté, which is served in a peanut sauce (pindasaus), probably has the fewest calories out of all the snacks I tried. A quick glance over the menu in most restaurants reveals that this dish has become an integral part of Dutch cuisine. These chicken skewers are available everywhere, even at IKEA!
DUTCH CUISINE: LOEMPIA
The Netherlands' equivalent of Germany's Currywurst booth? Loempia booths. Loempias are large, round spring rolls, and they're key to Dutch snacking. Most markets, festivals and big events have food trucks that sell these delightfully crunchy and doughy snacks. Additionally, a number of cafés include them in their Borrel menu, but they're usually a bit smaller in size. The spring roll is served with a sweet chili dipping sauce. Yummy!
DUTCH CUISINE: KAPSALON AT MIDNIGHT
I'm still new to Kapsalon. I've only had it once, and it was late at night, but as far as I can remember it was delicious. Kapsalon means hairdresser, and it originated in Rotterdam. This dish isn't a sloppy drippy mess, but rather a stacked tower. Why order chips, a kebab and side salad separately if you can stack them all on top of each other in a tin foil tray? This culinary construction is baked in the oven for a few minutes, leaving all the flavours to melt into one. A hairdresser in Rotterdam used to order this at his/her local kebab shop, and soon others followed suit. And just like that, Kapsalon was born.
DUTCH CUISINE: SNACK WALL WITH KROKET, KAASSOUFFLÉ , FRIKANDEL AND CO.
The Dutch wall of 100 possibilities is almost as famous as the Dutch portion of chips – and I bet it's already on your list. Design and optimised processes are important to the Dutch, including when it comes to snacks. Why stand in a queue waiting for a midnight snack? Simply pick out some change from your wallet and you can pull a Kroket (battered and fried roll filled with meat) out of a hatch. Other classic snacks also beckon to hungry passers-by, such as Kaassoufflé (breaded and fried cheese) and Bamischijf (fried slice of pasta bake). My favourite? Satékroket, especially at the end of a night out …
DUTCH CUISINE: BROODJE HANS AND FRIENDS
Fancy a sandwich? In Germany bakeries have a selection in case you get hungry when you're out and about. In the Netherlands there are Broodjeszaak – small shops that make sandwiches on mini-baguette (pistoletjes), often even for delivery. The bread itself isn't that good – often you can only choose between white and brown baguettes or ciabatta. The star of the show: the filling. Meatballs in peanut sauce – Broodje bal, Broodje bacalao (stock fish), and a number of pesto-rocket-combinations – far more exciting than German salami sandwiches. The rolls are filled freshly for each customer and can be heated up in the oven. Some broodjeszaaken have their own creations that carry the name of their inventors – the shop owners. Just like Broodje Hans from Kaasboer in Amsterdam. Innovation and taste are rewarded. Daily newspapers often nominate the best broodjes in town, with the winning establishments proudly displaying the newspaper clippings in the shop window.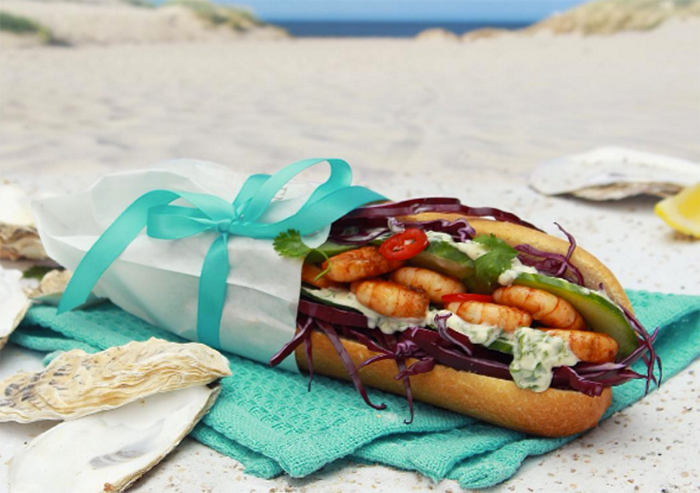 DUTCH CUISINE: ROTI ROL
Roti Rol is my favourite. Why? Because it's so different. At first glance it looks like the Surinamese equivalent of the Turkish pizza. But apart from its handy shape the two have nothing to do with each other. The dough is much softer, the filling is made up of potatoes, green beans, boiled eggs, Indian spices and beef, lamb or chicken. Suriname was a Dutch colony until 1975, which is why this country's cuisine is featured in so many restaurants, food markets, and fast food trucks. My final snack: Kip Roti Rol. Tasty!
If you're feeling peckish, get in your car, buy a train ticket, jump on your bike or get on a plane and head on over to sample some Dutch snacks! Enjoy!
Vlammetjes and beer – amazing!
The Snack wall by Febo
---
OUR GUEST BLOGGER:
Hi! My name is Julia. I grew up in a small village near Gütersloh, but my path brought me to Amsterdam, via a few detours. Here, just like back home, I can get everywhere by bike, but there's constantly something new to discover. When I'm not cycling across canals looking out for cute shops and bars I work in PR. From time to time I trade my desk chair for city trips and exciting holidays to destinations on my bucket list. I'm currently learning Spanish; so far my skills are limited to lyrics from famous summer party songs – "vamos a la playa" is a bit boring in the long run.